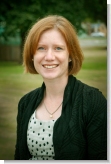 Despite my youthful appearance I reassure you that I am an experienced 40yr old. I have two kids, Emma (9) and Simon (7). They both attend Exeter Primary School and periodically Exeter Daycare. They keep me busy but mostly I manage a small farming business, Tamar Valley Hazelnuts, a hazelnut orchard with my husband, Nathan in Glengarry, Tasmania. The business has just reached a commercial stage, for the last 8 years its been establishing. We have 5000 trees over 10ha and built a drying and cracking facility in 2016-2017 on the property.
Lately I've established the Tamar Valley Farmgate Association with the primary aim of getting a new Festival happening in the Tamar. Farmgate Festival supports local agricultural and food businesses raise awareness of their products and their lifestyles. It promotes the region and fits perfectly into the local and state tourism strategies. The 2017 festival was a great success and I'm glad to be both Chair and project manager of the festival again for 2018.
In 2011 I ran for local government in West Tamar municipality. I was very lucky to get elected and for my early supporters I thank you! I have been working there ever since, scraping through on the 2014 elections. Elections are up again in Oct 2018 and I hope you will still support me.
Before the farm and council I worked for Onstream (now Tas Water) and for the Department of Defence in Canberra and Melbourne. I was a project manager at Onstream and worked in project management and program governance for Defence for 10yrs. I focused on financial accountability, business case development and prioritisation. Some of my experience includes program managing a budget of $22M over 4 financial years comprising 50-60 projects. I ran a team that supported the project review committee that oversaw the prioritisation of projects. I have managed three large projects in my career; a $8M computer upgrade project, a $4M software installation and rollout to four organisations and a $300K facilities upgrade project. Oh of course you could also include project managing the building of a commercial kitchen and hazelnut processing facility on our farm too!
While I've lived and worked on the mainland, I was born in Burnie and have grown up in Tasmania with strong family ties to the state. After living and working on the mainland for 12 years and the birth of our first child we decided to move back to Tasmania to be closer to family. We also felt that Tasmania was the best place to raise our children. I attended Burnie Primary School and Parklands Highschool, great public schools that led me to pursue a Masters degree in Information Technology from UNSW, and an Honours degree in Biochemistry from the ANU. I have been a professionally accredited project manager with the Australian Institute of Project Managers for 7 yrs and have a Diploma in Project Management.